You know the struggle if you've ever found yourself down the rabbit hole of researching web hosting providers. There are an overwhelming number of options, each promising the moon and stars when it comes to reliability, performance, and customer support. However, a few names consistently come up in conversations about trusted hosting providers, and ScalaHosting is one of them.
In this in-depth review, we'll explore ScalaHosting's Web Hosting and VPS Hosting plans and unpack its pricing and performance details.
An Overview of ScalaHosting
ScalaHosting is a comprehensive hosting provider that offers a gamut of plans, including shared hosting, VPS, cloud, and dedicated servers, and backs them up with top-notch customer service. The company has carved a niche by providing affordable, reliable, scalable hosting solutions. But let's not just stop at the buzzwords; here's a detailed breakdown.
Web Hosting: A Plethora of Features
Starting at a competitive price of $2.95 per month, ScalaHosting's shared hosting plans are nothing short of impressive. One of the standout features is the free domain name that comes bundled with each plan, eliminating the hassle and additional cost of purchasing one separately.
What else is on the table? Unlimited bandwidth and unlimited email accounts make it easier for individuals and businesses to manage online operations without fretting about limitations.
And if you're new to the whole 'website creation' realm, ScalaHosting has your back with a free website builder. For those concerned about security (and in today's digital age, who isn't?), ScalaHosting offers free SSL certificates along with daily backups. So, not only is your website secure, but your data is safe and sound, too.
VPS Hosting: For Those Needing More
If you're looking for more control over your hosting environment, ScalaHosting's VPS plans begin at $29.95 per month. With these, you get a dedicated IP address and root access to your server, ensuring you have the freedom to configure things just the way you like.
The premium features don't stop there. With options like managed services, SSD storage, and DDoS protection, ScalaHosting ensures you have all the essential tools to maintain a high-performance website.
Pricing and Performance: The Real Deal
While the pricing is undeniably competitive, ScalaHosting takes it a notch higher by offering a 30-day money-back guarantee. This shows their confidence level in their services and offers you a risk-free window to try out their hosting plans.
FTC Disclosure: We receive customer referral fees from companies and websites mentioned on our website. All data and opinions are based on our own experience as paying customers.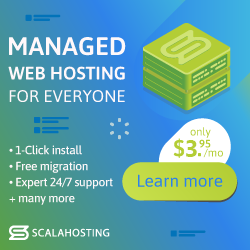 Regarding performance, ScalaHosting leverages multiple data centers around the globe. This ensures that your website will load quickly and reliably, regardless of your audience is location. Their state-of-the-art technology and stringent security measures further underline the company's commitment to delivering excellent performance.
What Sets ScalaHosting Apart?
Whether you're just setting up your first blog or managing a booming online business, the scalability options provided by ScalaHosting's VPS and cloud plans mean that your hosting environment can grow as you do.
From DDoS protection to firewalls and intrusion detection systems, ScalaHosting strongly emphasizes securing your online presence.
Round-the-clock customer support ensures that help is available whenever you need it, making sure that you spend more time growing your website and less time troubleshooting issues.
Final Thoughts
In the world of hosting, ScalaHosting has managed to carve out a space where it is known for reliable, affordable, and feature-rich hosting solutions. From various hosting plans to customer-centric features like 24/7 customer support and robust security measures, ScalaHosting ticks almost every box you'd want in a hosting provider.
So, whether you're a novice looking to make your mark in the digital world or a seasoned business looking for scalability and performance, ScalaHosting has something for everyone. With competitive pricing, a range of features, and a steadfast commitment to customer satisfaction, choosing ScalaHosting would be wise.